When it comes to select­ing the song for your first dance, some cou­ples find it to be a straight­for­ward deci­sion dur­ing wed­ding plan­ning. Yet, for oth­ers, it can turn into a com­plex and time-con­sum­ing task.
If you're fac­ing dif­fi­cul­ties in mak­ing your choice, here are a few ques­tions you can ask your­self that should help you in nar­row­ing down your choices.

Is there a ​
"

best" first dance song?

No, the per­fect first dance song should hold per­son­al sig­nif­i­cance for you, rather than aim­ing for world­wide appeal. Nonethe­less, cer­tain songs have become time­less options for first dances, and these can serve as sources of inspi­ra­tion. We've com­piled a list of these clas­sics at the bot­tom of this blog post.

How soon should we finalise our song selection?
Your first dance as a mar­ried cou­ple will attract all eyes, mak­ing it a sig­nif­i­cant moment. As a result, we'd rec­om­mend­ed to decide on your song as ear­ly as pos­si­ble. This will give you ample time to prac­tise your dance rou­tine, if you are plan­ning one. If danc­ing isn't your strong suit, you might con­sid­er hir­ing a chore­o­g­ra­ph­er to help you chore­o­graph your steps and enhance your con­fi­dence on the big day.
How can we make our first dance unique?
Ele­vat­ing your first dance involves show­cas­ing what makes you and your part­ner unique. You could con­sid­er a med­ley of songs to reveal your per­son­al­i­ties, or per­haps hav­ing your live band per­form your cho­sen song as you dance. Regard­less of your pref­er­ences, as long as it res­onates with your rela­tion­ship, it will undoubt­ed­ly be special.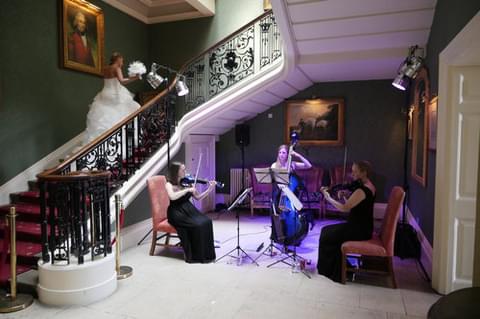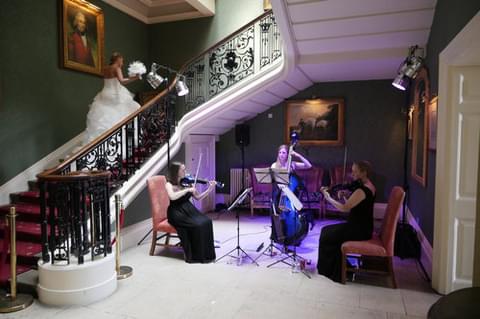 Emerald Strings
Is a slow tem­po nec­es­sary for a first dance?
Not nec­es­sar­i­ly. If you share a spe­cial con­nec­tion with an upbeat track and wish to set a live­ly tone for the evening, go for it! Alter­na­tive­ly, you might opt for a slow­er tem­po to cre­ate a more roman­tic ambi­ence between you and your new spouse. The choice is entire­ly yours.
What are some of the top song options for first dances?
For those seeking musical inspiration, we've curated a list of the 30 most popular choices for a first dance song:
 Perfect - Ed Sheeran

At Last – Etta James

All Of Me – John Legend

Thinking Out Loud – Ed Sheeran

Amazed – Lonestar

Can't Help Falling In Love – Elvis Presley

Your Song – Elton John

How Long Will I Love You – Ellie Goulding

Something – The Beatles

Let's Stay Together – Al Green

I Don't Want To Miss A Thing – Aerosmith

The Luckiest – Ben Folds

Wherever You Will Go – Charlene Soraia

A Thousand Years – Christina Perri

Stand By Me – Ben E. King

Iris – The Goo Goo Dolls

I'm Yours – Jason Mraz

Wonderful Tonight – Eric Clapton

Truly Madly Deeply – Savage Garden

This Will Be (An Everlasting Love) – Natalie Cole

I'm Kissing You – Des'ree

Run – Leona Lewis

You Make It Real – James Morrison

(Everything I Do) I Do It For You – Bryan Adams

Love You 'Till the End – The Pogues

You're Still the One – Shania Twain

From This Moment On – Shania Twain & Bryan White

Grow Old With You – Adam Sandler

Just the Way You Are – Bruno Mars

Make You Feel My Love – Adele